Eco School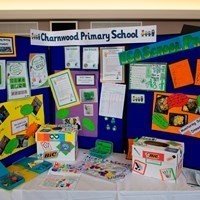 Eco-Schools and Food for Life Celebration 2018
On 12 June 2018, Charnwood Primary School attended our very first Eco-Schools and Food for Life Celebration at City Hall. The 5 Eco representatives talked to guest judges and also some City Councillors about the Eco projects were have been involved with over the past year. Our Eco projects focus has been: Healthier eating at school, Energy consumption and recycling.
Charnwood Eco Projects
Whole school Pen/ pencils recycling scheme
Energy monitoring tokens – Classes encouraged to switch off: lights/projectors/switches/ and close doors/windows through daily tokens.
Waste: Reducing and monitoring our school dinner waste.
Charnwood Food For life projects
The school council developed initiative called ' 5 Minute fruit time' , encouraging every pupil to have their healthy fruit/vegetable snack in class within their friendship/social groups.
Packed Lunch monitoring – Assemblies and poster competitions to encourage children to eat a balanced packed lunch.
Cooking in the curriculum: Each year group encouraged to cook/prepare ( Using healthy / vegetarian ingredients) a meal/ recipe linked to topic.
Fundraising events
Poverty Action week – Wear a funky Scarf day
In support of Poverty action week we raised money for Charity Link, a local charity in the city, who helps people and children by providing essential items including: food, clothing and beds to those in need. With your donations we raised£101.99 and collected food items for hampers which we donated to the Highfields Food Bank. We received a letter from Jon Ashworth (M.P) thanking the school community for the generous donations made.
'Wear a Funky Scarf day', assembly in which we presented our magnificent food hampers to Charity Link.
Food for Life - Silver Award
We have been awarded the Food for Life Silver Award.

Please see our certificate below: